Works absolutely great
Works excellent with all my kids hair textures. They love it and I love the easy detangling process using Donna's Recipe LOC Method (Leave-in conditioner, hair oil and hair cream).
It's wonderful to hear that the Vegan Biotin Hair Vitamin Gummies have been working well for your kids' hair textures and that you're enjoying the LOC Method with Donna's Recipe products. Healthy hair can be a family affair, and it's great that your detangling process has become easier. If you have any more insights or questions in the future, feel free to share or ask. Donna's Recipe is here to support your hair care journey! ‍
You Will Get Results!!
This product has proven itself to me over and over again! I have been using this product for a little over a year now and I have received nothing but the best results ever! Since my surgery (2017), my hair would try to grow in and it would immediately start falling out. I kept a close cut and even with the cut, my hair was still thinning and shedding. I decided to try Donna's Recipe Collection and My hair has grown back in much softer, stronger, manageable and healthier than it was before. I am so SATISFIED with using Donna's Recipe and would love for you to try it too.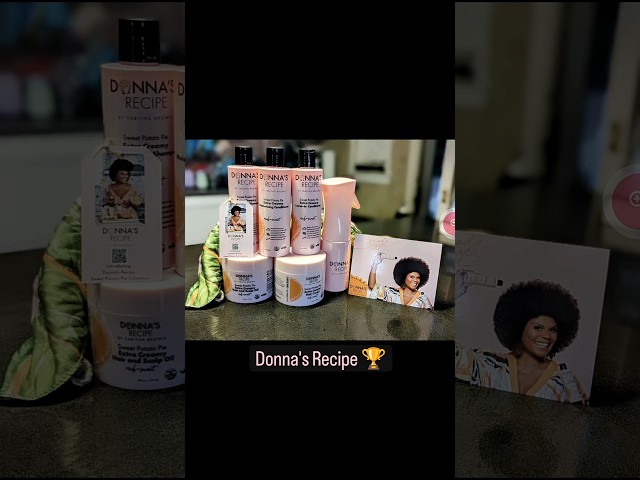 Thank you so much for sharing your incredible journey with us! We are genuinely touched by your experience, and we're thrilled to have been a part of your hair transformation.
It's remarkable to hear that our product has made such a positive impact on the strength, manageability, and overall health of your hair. We're grateful that you chose Donna's Recipe Collection to address your concerns, and we couldn't be happier that it's exceeded your expectations.
Your success story is a testament to the effectiveness of our product, and we appreciate your recommendation to others. If you ever have more updates, questions, or need further assistance, please don't hesitate to reach out. We're here to support you on your hair journey, and we're honored to have you as a satisfied customer. Thank you for sharing your inspiring experience!
My hair is on the move!
My hair and my nails have been growing like crazy and on top of that I feel like my skin also has gotten a little clearer. I don't know if it's the biotin that does all of this for my skin in my hair and my nails but he's doing something I'm loving it.
Thanks for letting us know your hair and nails are growing! We appreciate you!
I can't stop rubbing my edges….. Yessss!!!
Wonderful
This is either my 5th or 6th order and it's money well spent!
Thank you for the creative video! Congrats on your hair growth!
Love it! Love it!
I'm an almost 73 year old that colors my hair. My hair has thickened and grown in length, so it's hard to keep up with the coloring. I have been so hesitant to take a picture or video, but here goes.
Thank you for sharing your experience and video! Looking great!
Best Product out for hair
I have used he oil and vitamins for about 3 weeks. Noticeable growth. I do research for a living and this product is the best I have found on the market.
Love hearing about your progress! Thank you for using Donna's Recipe!
Miracle in a Bottle
I just want to say that this product truly works if you stick to the regime. The gummies taste fantastic and the oil smells sooooo good. I've been using this product for almost three months and I love the results. I've been dealing with a widows peak and Donnasrecipe saved my hair line and I've been getting mad compliments on my hair. Get into it fellas!!
Donna's Recipe gummies
I love Tabitha Brown and Donna's Recipe. The gummies are delicious, don't taste like a vitamin at all and I love massaging the hair oil into my scalp. I'm growing my Donna as well! Thx Tab!
Yolanda's recipe
I've been natural two years, since I turned 50. I couldn't do the big chop. I am still learning how to manage my hair but Donna's recipe has really encouraged growth and health. I love it and will be a life long customer!
I've shared this with so many of my friends. I've gifted the oil and they all love it and become customers themselves.
Thank you Donna for sharing your amazing gifts with the world. For so many years sistas only had one or two options to care for natural hair. Now we have so many it's hard to know what right. I'm so glad I know Donna recipe works for me.